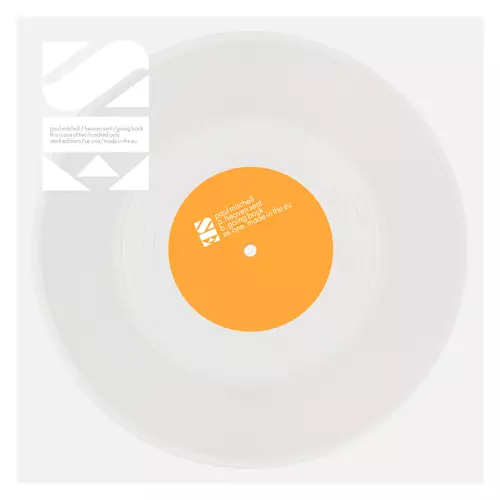 Heaven Sent
Available Formats
Tracks
Price
Buy
10" Vinyl Single
2 tracks

£

10.00
Description
Paul Mitchell - Heaven Sent
Reviews
"You don't rush a Paul Mitchell production, really you don't; consequently it's been over two years since we last heard from the enigmatic programmer. That release was Hotwire, one of the first on STARKFutures; a hypnotic piece of immersive garage­tech brilliance.
Now he returns on our new STARKFutures offshoot, STARKEditions, with the strictly limited edition, clear vinyl, ten­ inch single Heaven Sent/Going Back.
With this release he goes in, infusing more techno into the textures to create the glowing metronomic Heaven Sent, a righteous piece of the underground and a statement of intent of how to fuse the classic motor city sound with that of the best from Berlin, all via machines in Chelmsford. Huge and minimal yet warm and complex, with a locked down rhythm that reminds you how this music lives and breathes, there aren't many better ways to spend six and a half minutes, although the accompanying Going Back isn't a bad place to start, with a rolling garage­tech groove that's been machine tooled for maximum impact coupled with an insistent vocal sample, this is another piece of timeless, yet modern electro­techno soul. Don't think of this as an A and B side, this is bigger than that, much bigger. It's two years of listening and learning, made into over twelve minutes of pure electronic rapture.
Out soon. Limited supplies only"
Tracklisting
10" Vinyl Single (SE.ONE)
Heaven Sent

Going Back